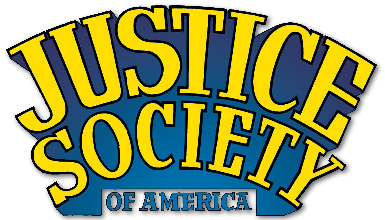 Initially a social club for super-heroes, the Justice Society realized the value of working as a group when they were able to foil Adolf Hitler's plans to invade England, after which they were encouraged by President Franklin D. Roosevelt to make the team official. As a group, they defended America from normal criminals and Nazi saboteurs alike from their headquarters in Gotham City. When America entered the Second World War, these heroes banded together with many other mystery men and women to form the All-Star Squadron. After the war ended, a number of the members of the JSA continued to work together until the rampant paranoia of the McCarthy era forced many of them into premature retirement. The JSA would only be seen together infrequently from this point until the dawn of the new heroic age, when, striking up a great friendship with the heroes of the Justice League of America, they regrouped officially once more, being joined by a handful of younger heroes. The elder statesmen of the group were suddenly snatched away from the world in the wake of the great Crisis to prevent god-like beings from ushering in Ragnarok, the end of the world. When eventually rescued from this, the Society encountered Extant in battle, who robbed them of the youth they had mystically acquired in their never-ending battle, killing Hourman, Doctor Mid-Nite and the Atom and forcing most of the rest to retire. Very few of the 'classic' Society members survive, but those that do now form the core of the new JSA, alongside the genetic and spiritual descendants of their old team-mates.
Trending pages
All items (73)
Community content is available under
CC-BY-SA
unless otherwise noted.