Villains
Bad guys from anywhere in the DC Universe.
Scroll down to see the list of characters and links to their pages.
Note: there are over 2,500 characters linked here. So you might prefer to look at the 'Villains by Heroes' page, where there are links to category pages of villains linked by the hero or hero groups they usually opposed.
Click logo to go to Villains by Heroes category page
•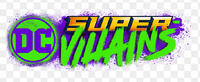 Trending pages
All items (2689)